There are a few ways to make sure your video is discovered by the thousands of people searching Newsflare for videos.
See below for tips on helping your videos generate maximum revenue:
Tagging:
Tagging helps buyers to search and find your video, they might be looking for a specific object, location or action. We've jotted down below some examples to give you inspiration.
How to tag: To add tags to your video,
Head to My Videos and click edit and add new tags under 'Tags',
Start typing and to add another tag use the comma ','
Don't use '#' - no need, just words will do
What to tag:
Objects: Name the objects in the video ie cat, Burmese cat, ball, mouse, skateboard, skateboarders, motorway, car, truck
Action: What's happening in the video ie falling, skating, skateboarding, surfing, tripping over, sliding, running, car crash, accident
Theme: Holiday, road trip, Animals, Pets, Weather, Nature, Drones, Dog, Baby, Fail, UK news, USA, Accidents.
Single and multiple words tags: Partners will often search with multiple words, to increase your chances of getting your video found, try including multiple words as a tag - for example "Dad running fail", or "terrible holiday weather", "worst flood Cumbria" can help surface your video for purchase.
Description:
Add as much as you like here that describes what is happening in your video. It helps to include the location and if there is a story behind the video - sometimes our buyers like to include this as part of their news article.
To start with, if you can - include:
What happened?
Who is involved?
Where did it take place?
When did it take place?
Why did that happen?
How did it happen?
Other information:
Location:
As some of our buyers are looking for things specific to a location make sure your location is accurate and matches the location on the map is super important.
Often our Production / TV buyers are searching for something related to a specific theme and will search certain areas. By making sure your location is correct it increases the chances of your video making it to a TV program or news show.
Thumbnails:
If the default thumbnail doesn't show the action - you can change it, simply find the video you'd like to change and click Edit video, and click on the thumbnail which will give you a selection of frame options to choose from.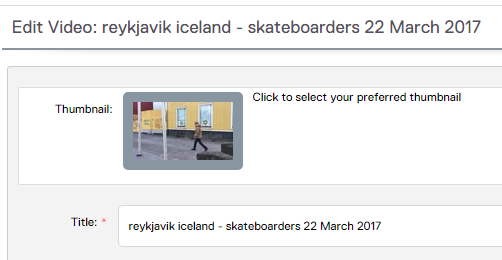 What to upload next
You'd be surprised what sells, it surprises us constantly! If in doubt, upload it - you never know what someone is searching for right now or sometime in the future. One member uploaded a video 4 years ago and it recently just sold again!
Video briefs: We have partners that are looking for something specific and others that are constantly on the look out for videos around a specific theme - like dashcam crash footage, wild weather, life hacks, graffiti to name a few, for our current live video briefs check out Video briefs section.
Timely: News sites are looking for videos relating to current affairs
Original: Something unique
Funny and fails: Lots of our partners are looking for entertaining videos, if it's made you smile or surprised your friends, someone else might find it interesting as well.
For inspiration head here: These top 10 tips will help you earn money on Newsflare
What to avoid, things that stop a sale
There are a few things that make selling your video tricky, best to avoid the following:
Music: We can't use anything that has copyrighted music in your video - it's best to upload it in it's raw format. Websites or TV producers will often put their own non-copyright music to match your video
Did you shoot the video: You must own the copyright, we can't sell it on your behalf if it isn't
Logos or watermarks: A buyer will prefer that you don't have watermarks or logos on your video

Less is more: Overly produced content, weird transitions/awkward cuts etc. Don't worry about the edit, the purer the footage the better as it gives the producers more to work with.