YouTube monetisation basically is the placement of advertising on your YouTube video. As we're a YouTube Partner we can offer YouTube Monetisation as an optional extra service.
We can help you if you'd like this added to your video, we just need to let YouTube know that you've given us permission to do so.
Why should I monetize my video on YouTube through Newsflare?
The benefits of letting Newsflare take care of this for you:
Get paid sooner: Take advantage of Newsflare's partnership with YouTube. By allowing Newsflare to manage this for you, you'll get paid as soon as your tally hits £10
If you go direct to YouTube, their minimum payment is $100.
New channels will have to get 10,000 views before they can be considered for the YouTube Partner Program, the firm announced in a blog post. By monetising with Newsflare you can get to 10,000 views quicker as we tally up views from every copy of your video through a business tool called Content ID.
Video protection: As well as managing and promoting your video, as a YouTube Partner we benefit from a special tool called "Content ID" which allows us to automatically find every copy of your video on YouTube and claim advertising revenue from those copies for you. A lot of our members find it very satisfying to take control of the many copies which tend to appear on YouTube and make extra money from them in this way.
How does it work?
YouTube works with Google AdSense to place adverts around your video on your channel and shares the revenue generated from these adverts.
Newsflare can set this up for you and just like all the other ways we help your video to make money we share any revenue it makes with you.
We'll make a copy of your video on our YouTube channel and make an "ownership" claim on your video through our account. You will receive a slightly scary sounding message from YouTube about copyright which you can ignore. The video still belongs to you, we just need to "claim" it (let YouTube know we're using your video) so that we can start making money for you. The video will remain on your channel but you will start to see adverts around it.
The amount of money you'll earn will depend on a number of factors - how many people skip the ad, the amount that advertisers are paying, how long someone watches the video for etc. It's tough to estimate how much a video will earn on YouTube, a million views could mean earnings of £100 or £3000, it really depends on what ads YouTube place on your video and who is watching it. Hopefully your video will be in hot demand which will increase your earning potential.
Set up YouTube monetisation
1) Give Newsflare permission: If you were sent an upload form by a member of our Newsdesk there will be a box you can tick to give us permission to monetize your video on Newsflare.
If your video has already been uploaded, contact us and our team will arrange this for you.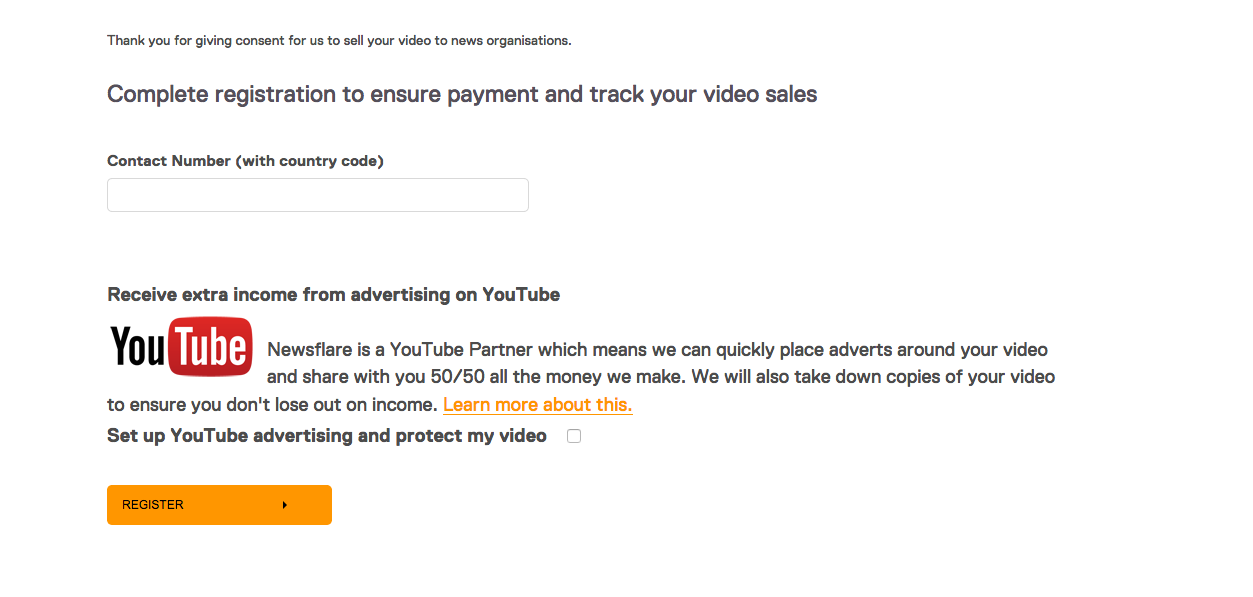 If you're interested in setting up Youtube monetisation to help protect your video and earn money, please contact us

2) YouTube will send you a confirmation email: Once we've created a copy of your video and let YouTube know, they'll send you an email that looks something like the below. Don't worry, you still maintain ownership of your video, it's just part of the YouTube process.
Version 1) "Copyrighted content was found in your video. The claimant is allowing their content to be used in your YouTube video. However, ads might appear on it."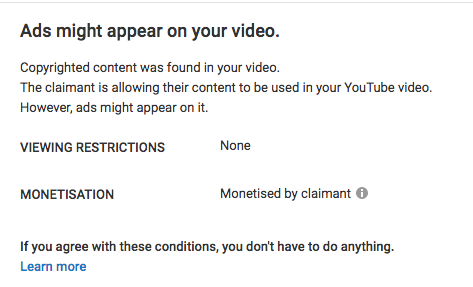 Version 2) "A copyright owner using Content ID has claimed some material in your video. This is just a heads up. Don't worry. You're not in trouble and your account standing is not affected by this. There are either ads running on your video, with the revenue going to the copyright owner, or the copyright owner is receiving stats about your video's views."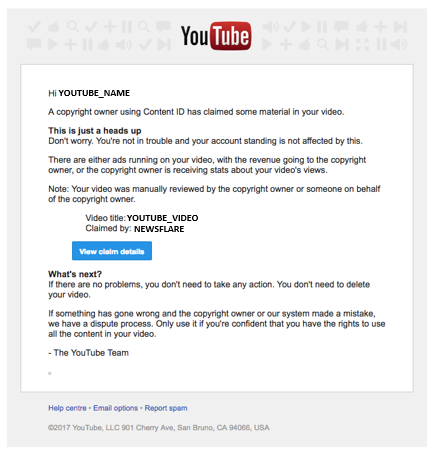 3) Advertising starts: As soon as we've done this for you, you should start to see advertising placed around your video on YouTube. Newsflare will be authorised to protect your video, by claiming revenue from unauthorised copies on YouTube. You'll still own the copyright to your video, you'll just now be making a little extra through advertising.
4) Protecting your rights: We strongly recommend that you put this note in the description field below your YouTube video ASAP so that people don't use your video without your permission and buyers know where to make enquiries:
"This video is managed by Newsflare. To use this video for broadcast or in a commercial player please email newsdesk@newsflare.com or call +44(0)8432895191"
We try to spot as much of this activity ourselves but we can't see everything. If you see your video being used somewhere without your permission, please get in touch with us right away and, if possible, send us a link and a screenshot of the offending article. Please note there is no law to stop somebody embedding your YouTube video on their website, but if they are using your video in their own website player or in a broadcast we can get in touch to try and get them to pay a fair price or stop using it. We take protecting your video extremely seriously.
5) Payment: Because YouTube monetization relies on views, it takes a while for advertising revenue to add up. YouTube lets us know what advertising revenue was generated from your video 60 days following the end of the month that your video was monetized through Newsflare. We add any revenue generated to your tally, and once it hits a minimum £10 we'll automatically make a payment to you via PayPal. You can keep an eye on your earnings under Your Account, to manage your PayPal account see here
Reporting a duplicate
We have a tool called Content ID that helps make sure that if your video is copied on YouTube you still get rewarded for that copy. Once you've Set up YouTube monetisation we'll use the Content ID tool to help keep track of all the copies that are being made of your clip and claim advertising revenue from those copies for you. A lot of our members find it very satisfying to take control of the many copies which tend to appear on YouTube and make extra money from them in this way. If you're interested in letting us monetise your Youtube video for you, please contact us granting us permission and we'll do the rest.
Why did I receive a claim email from YouTube
Once we make a request to YouTube to set up YouTube monetisation, they'll automatically send you an email. It's part of their process - we're creating a copy and setting this copy up with Content ID under the Newsflare channel. While the YouTube message might mentioned a 'claim' of ownership, don't worry - you still retain ownership of your video (it's our policy that you retain ownership), it's just part of their process.