Deleting your video
To delete, simply login to your account, go to your Videos section where you can select and request deletion. Select the tick box next to the video you want to remove and we'll process this request after 30 days.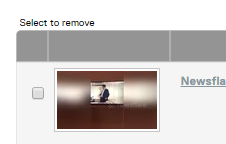 We do pride ourselves on having the friendliest terms as you always remain the copyright holder and we never take ownership - if you wish to proceed with another marketplace l would urge you to check for this within the T&Cs to not lose your rights entirely.
We're a rapidly growing company and so any feedback as to why would be much appreciated, we're always looking to improve our services - please let us know how we can improve.
Deleting your account
If you'd like to remove your account, please contact us. Please note that once your account is removed, you will forfeit any outstanding payments from the sale of your video.